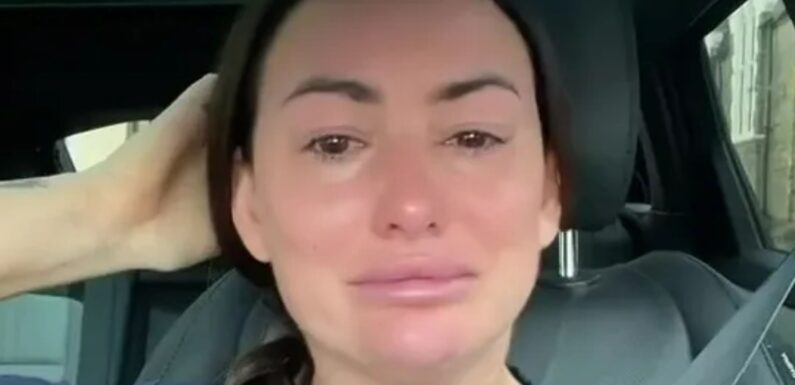 MARRIED At First Sight star Jess Potter has revealed she has suffered a heartbreaking miscarriage.
The dental hygienist, 31, has been open about her journey to get pregnant via IVF (In vitro fertilisation) with boyfriend TJ O'Reilly.
Earlier this week, Jess shared a picture of her baby scan as she announced that she was two weeks and four days pregnant.
But on Thursday morning, the tearful star took to social media to update fans on her devastating loss.
Filming a video from inside her car, she sobbed: "I'm sitting outside work…so yesterday I started bleeding a little bit and this morning I started passing some clots and stuff.
"I'm having a miscarriage which is f****** s***."
READ MORE ON MAFS
WEDDING HELLS
MAFS Ella praised for sharing trans story ahead of first commitment ceremony
TEARFUL TRUTH
MAFS's Ella breaks down in tears after revealing she's transgender
In floods of tears, she continued: "I'm sitting outside work, just trying to put on a brave face because I've got to speak to patients all day and it's really s***.
"I haven't slept and I'm in a bit of pain and obviously I'm having a miscarriage, so it's f****** s***.
"But it is what it is, there is not much you can do.
"So I've just got to wait a couple of months before we can have another round I guess.
Most read in News TV
SUSIE'S SCARE
Susie Dent opens up on cancer scare after TV colleague spotted worrying sign
WHO'S BACK
Doctor Who bosses announce surprise spin-off show in BBC first
OFF AIR
Dan Wootton suspended by GB News after Laurence Fox's vile rant on his show
checked out
Brutal Four In A Bed trolls rejoice as 'awful' contestant closes down business
"But I was really convinced it was going to work, that's the hardest bit, I really thought it was going to work.
"But yeah, I just thought I'd update everyone anyway."
She captioned the video: "I wasn't sure if i was going to post this or not, and ignore my UGLY crying face.
"But i said i was sharing my journey and this is the harsh but true reality of IVF and infertility. Nothing is certain. Now time to heal. Mentally and physically."
Earlier this week, Jess was thrilled to share her happy baby news with fans.
She posted a picture of her and TJ beaming alongside a snap of their baby scan and wrote: "IVF TRANSFER COMPLETE!
"Our perfect 4AA (highest grade) embryo has been implanted and we are technically 2 weeks and 4 days pregnant…so now just praying that it sticks as there is a high chance it won't…but staying positive
"The procedure was completely pain free, was like a smear test, in and out in 5 minutes.
"I'm now taking progesterone 3x per day to prevent miscarriage and keep the womb lining thick..so fingers crossed."
Jess has been inundated with messages of support from her followers.
One wrote: "I am so sorry. This is heartbreaking. Give yourself some time off to process it. Definitely don't feel obliged to go in work. Just keep remembering you are a strong and positive woman and you can do this."
Another posted: "My heart breaks for you. Sending you lots of love."
A third added: "Oh darling. You shouldn't be going to work darling. I'm so sorry. Oh Jess. It's heart breaking. Sending you so much love."
Jess shot to fame on the last series of MAFS UK.
READ MORE SUN STORIES
CRAZED BEAST
XL Bully ate my thumb & mauled hubby – he punched it 30 TIMES to make it stop
fresh start
Inside This Morning's backstage area where Phillip Schofield has been 'erased'
She tied the knot with stripper PJay Finch on the E4 show, but their romance was short-lived.  
At the time, Jess admitted that she and PJay ended the process as friends because they were simply "incompatible".

Source: Read Full Article