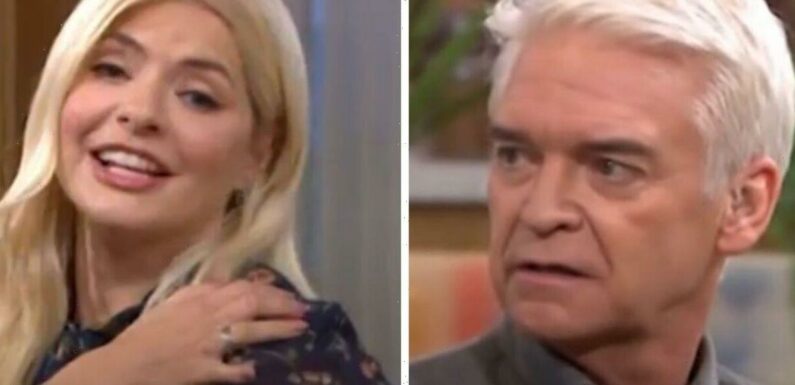 This Morning: Holly Willoughby reveals she's hurt her shoulder
We use your sign-up to provide content in ways you've consented to and to improve our understanding of you. This may include adverts from us and 3rd parties based on our understanding. You can unsubscribe at any time. More info
Holly Willoughby appeared to have pain in her shoulder during Thursday's This Morning after she admitted to her co-star Phillip Schofield that she was struggling to move. The duo usually dance to the music as they wait to speak to their Spin to Win callers, although, today, Holly found it a struggle.
The Spin top Win jackpot had doubled after all callers failed to pick up their phones on Wednesday's show.
Phillip explained the maximum a This Morning viewer could win was £4,000.
As the theme tune to the game began to play, Holly and Phillip waited for a caller to pick up.
"We're not doing very well, are we?" Phillip began as Holly replied: "I know."
The mum-of-three began to sway her arms before explaining: "I am finding it hard to dance because I have slightly hurt my shoulder."
As she put her hand up to the pain in her should, the host added: "I can slightly feel it."
Airing his concern for his pal, Phillip asked: "Is the painkiller wearing off?"
"Slightly," Holly laughed as she started moving her head. "It's ok, I'll just have to give it one of them."
As someone answered the phone, Phillip scolded: "You're doing it as well. You can't pause. You have got to go for it, June."
Earlier this week, Holly was left horrified after she accidentally swore on air.
Dressed as Wednesday Adams for Halloween, Holly and Phillip were taking part in Guess the Gadget.
However, Holly seemed to get carried away when she let slip the word, "S***."
"What the hell?" the host said as she tried to guess what the item was.
"Oh, it's electric!" before admitting: "Okay, I don't know what that does.
"I know what that is…" she added as the time ran out. "Oh s***!"
"Sorry," Holly promptly apologised and realised she had let out a swear word: "Sorry, sorry, sorry! Something might have just slipped out, I'm so sorry!"
Her co-star tried not to laugh at the blunder, before apologising to viewers.
"I am so sorry. I think that Holly may have just sworn and for that, I can only apologise," Phillip said.
"And she will, after the show, be hanging in the car park with Matthew Wright."
"It wasn't Holly, it was Wednesday," Holly said poking fun at her slip-up.
This Morning airs weekdays at 10am on ITV.
Source: Read Full Article