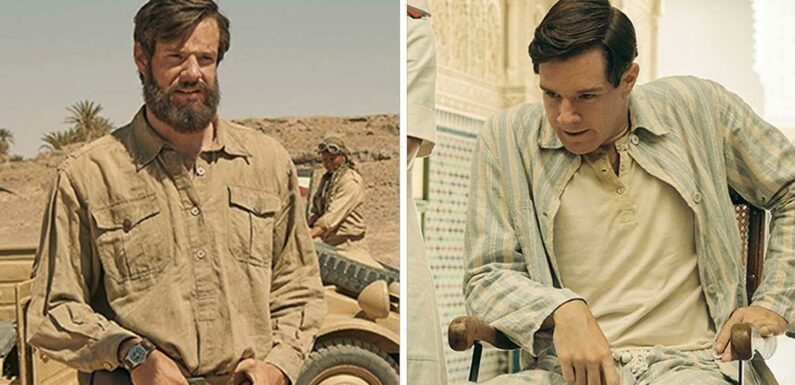 Your first look at SAS Rogue Heroes – BBC Trailer
We use your sign-up to provide content in ways you've consented to and to improve our understanding of you. This may include adverts from us and 3rd parties based on our understanding. You can unsubscribe at any time. More info
SAS Rogue Heroes cast had to stop filming the BBC drama after dramatic weather halted production. The actor Alex Mason from the wartime show explained how the intense sandstorms also inspired the directors on set. The rising star exclusively told Express.co.uk about the extraordinary working environment for the show.
Alex was part of a stellar cast including Jack O'Connell, Connor Swindells and Dominic West portraying the lives of the special forces unit in the Second World War.
Their unique tale was set in Cairo but filmed in Morocco, which threw up many hurdles for the cast and crew.
The actor, who also served in the paramilitary explained: "There were times when we had to down tools due to the sandstorm as it was that bad, we had to stop.
"But the director [Tom Shankland] would often see something cinematic in that, which is just what he was like. He would stop to film us while these insane sandstorms were going on."
Read More: I'm A Celebrity fans 'tune out' over 'annoying' habit on Mike Tindall
Having served in the armed forces himself, he was fully prepared for the challenge of filming the BBC drama.
However, there were still struggles he encountered as they shot scenes in the desert.
He said "I assisted as part of the Bare Arms to get the cast climatised out there."
"The biggest challenge was staying hydrated though, It got up to 53 degrees and I would say that was the most challenging factor of the show.
"We'd also be out there for long periods with 60kg on our back to prepare which brought back a lot of weird flashbacks."
The actor continued to reminisce on the experiences of shooting the six-part drama and the similarities with his old job serving his country.
During one scene, as a soldier he clashes with Theo Barklem-Biggs character Reg Seekings, which was made trickier due to their friendship on set.
He revealed: "We created quite a unique bond out there and were constantly chit-chatting.
"To have that bond with them was great but at the same time very difficult.
"We had this fight scene, with me and him (Theo) head-to-head so that was pretty surreal."
The writer of the hit, Steven Knight has also opened up on the challenges he faced creating the show.
He told Express.co.uk: "I mean, I think in our conversations with members of the SAS that are functioning now and that was around in earlier times say that in moments of extreme terror there is always this other sort of emotion which is human laughter.
"So it's always there and I think that as a writer if you can use humour to access an audience's empathy that's great. In these situations, it was really that's what they did."
SAS Rogue Heroes tells the amazing story of the creation of the special forces during World War Two, based on Ben Macintyre's book of the same name.
On killing off real-life heroes on screen Steven added: "You make a choice and I have chosen that when that character died, they die, and it's a shock.
"Hopefully, it will be quite emotionally effective, but the choices also be for me, keeping to the real story. In terms of the template."
SAS Rogue Heroes is available to stream on BBC iPlayer
Source: Read Full Article