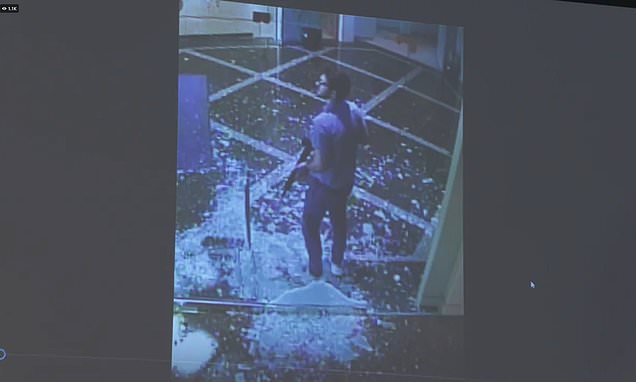 'I think he's down, get the officer!' Louisville cops release bodycam footage of 25-year-old shooter's bank rampage in which he killed five co-workers after getting fired
Dramatic body camera footage shows the moment a 25-year-old disgruntled employee opened fire on a rookie cop.
Police released over six minutes of body camera footage from the shooting at the Old National Bank at a news conference on Tuesday, detailing the Louisville Metro Police Department's quick response to the massacre. 
Officials have said they arrived at the scene within just three minutes of receiving a call about an active shooter at the bank, and just three minutes after that, the suspect, Connor Sturgeon, was pronounced dead. 
The video released Tuesday shows the shooter pointing his gun directly at rookie officer Nickolas Wilt while frantic officers tried to spot the gunman as Sturgeon took advantage of his higher ground to fire on the officers below.
After a few minutes, Officer Galloway could be heard saying he believes the victim is 'down' and urges his colleagues to check on Wilt, who remains in critical condition after being shot in the head. 
Sturgeon was said to have been suicidal and was seen waiting for police to arrive in a livestream of the attack he posted on Instagram. 
He was pronounced dead at the scene, but only after killing five of his co-workers and injuring eight others. 
Connor Sturgeon, 25, was identified as the lone gunman in an attack at the Old National Bank Monday morning that killed five people and injured eight others. He is pictured in surveillance footage casually dressed while holding an AR-15
Body camera footage taken from Officer Nick Wilt shows he immediately approached the bank after hearing gunfire
https://youtube.com/watch?v=xQUK7UyF8uE%3Frel%3D0%26showinfo%3D1%26hl%3Den-US
The footage released on Tuesday shows the officers bravely pulling up to the scene of the Old National Bank as at least three gunshots could be heard.
Officer Wilt, who was just 10 days into his job on the police force, immediately ran up the stairs outside the bank.
'We do have shots fired,' he radios.
It then cuts to body camera footage from Officer Galloway, which shows him running up the stairs at the bank and immediately get fired on. 
The impact of the gunshots blasted the officer backwards, but that did not seem to stop Galloway, who got back up and ran back down the stairs. 
Bystander footage showed him stumbling and falling as he tried to get away. 
After seeking cover, two more shots could be heard before Galloway curses and says, 'The shooter has an angle on that officer.'
'I don't know where he is, the glass is blocking him,' Galloway adds. 
As Galloway seeks to regain his breath, police and ambulances could be heard arriving on the scene. 
'He's shooting straight through these windows right at the officer,' Galloway tells another officer off screen moments later. 
Soon, another barrage of gunfire could be heard as Galloway exclaims that he does not have an angle on the shooter. 
Eventually, though, Galloway says, 'I think he's down. Suspect down, get the officer.'
It remains unclear who shot and killed Sturgeon.
Galloway announced that the suspect was 'down' after a few minutes of exchanging gunfire
Galloway kept his gun drawn as he approached the suspect, lying on the ground
Officials said at a news conference that nobody else was shot after police arrived on the scene at around 8.41am Monday. 
Source: Read Full Article