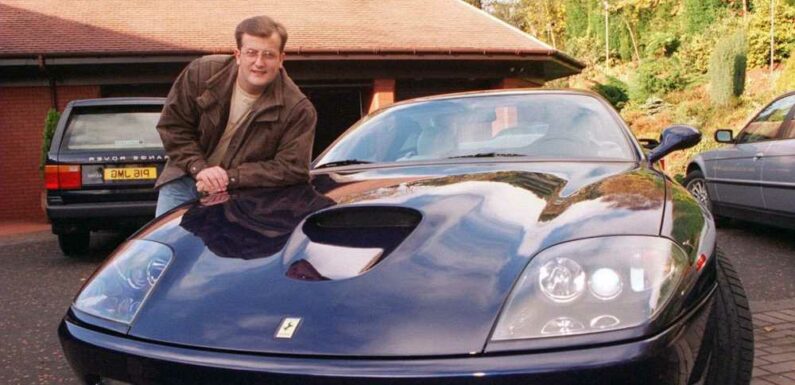 A LOTTERY winner is skint after bagging £10million.
John McGuinness gave £750,000 to his ex-wife but lost all his money after putting it into bad investments.
The Livingston FC fan was eventually ruined when he used his sudden wealth as a guarantee against his club's loans.
It meant that he was liable for all of the football club's debts.
He had put £4million into it before it went into administration.
And he lost millions in a venture to buy Livingston with former Celtic director Dominic Keane.
READ MORE LOTTO
I'm the world's best boss – I gave employee HALF my lottery jackpot for helping me
'World's luckiest woman' scoops £123k lottery jackpot with FIRST EVER ticket
John was working as a hospital porter when he won £10million in 1997.
He lived with his parents in a council house at the time and earned £150 a week.
After the win, he spent more than £3million on close family members, swapped his Vauxhall Astra for a £140,000 Ferrari Modena Spyder and bought a £500,000 seafront apartment in Majorca.
At one stage he had six cars on his driveway, including a Bentley, Mercedes, Jaguar and BMW.
Most read in The Sun
At least 67 dead as passenger plane crashes while coming into land
LIVE reaction as KSI knocks out FaZe Temperrr in first round
Harry told 'lay off' Wills' kids after claiming he aired gripes to help them
The Masked Singer fans fume as 'married' Cat and Mouse are booted off
And he bought a £1.3million mansion in Bothwell, South Lanarkshire, which he moved into with his wife Sandra and family.
He moved to another mansion just 20ft away in 2004 for he could fit a snooker table in.
After losing all his money he blamed former business partner Dominic Keane because he encouraged him to invest in Livingston FC.
Keane was accused in court of tricking him into signing an extension to a £2million loan but was found not guilty.
John said at the time: "Keane broke down in the witness box and said he'd lost his house. But I'm the only one who has lost everything.
"I had the Ferraris, the designer wardrobe and the luxury holidays. I had everything I had ever dreamed about and more.
"Now I'm worried about how to pay for the shopping."

Source: Read Full Article