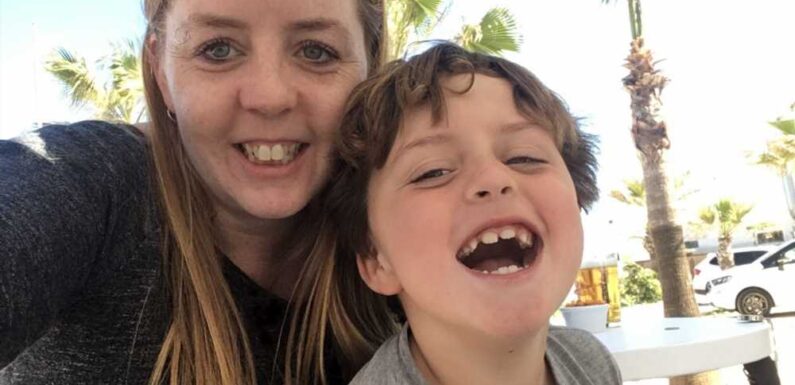 A BRIT single mum is being evicted from her home in Spain for squatting – despite not missing a rent payment in SEVEN YEARS.
Kate Langshaw, 44, and her son Lucas, seven, are getting the boot after a row between the property's owner and her "heartless" son in Alicante.
Mum-of-one Kate and her son now face being made homeless with her young child and their dog Orri.
She said: "I've always paid my rent and did everything I was told to by the rental company, it's terrifying to think we could all be on the streets.
"We are still in the summer season and I cannot afford to find a new place near my son's school.
In a tragic further twist, Kate said she may have to give up their beloved pup.
Read more in world news
Kim Jong-un launches 'nuke armed' submarine – but experts doubt it works
Shamed That 70s Show star jailed for 30 years for raping two women
"I might even have to give up my dog as very few rental properties accept pets which would be heartbreaking for me but especially my son.
"He suffers from anxiety and Orri is crucial for his mental health."
The issue stemmed from a row between the landlord and his sister over who owns the property.
Kate's landlord was granted ownership after he took the issue to court – but Kate was none the wiser about the change in ownership.
Most read in The Sun
SWOOP BUNGLE
Moment cops think they've nabbed escaped Khalife but realise it's a lookalike
SCREEN PREDATOR
Shamed That 70s Show star jailed for 30 years for raping two women
oh baby!
Laura Anderson gives birth to baby girl with Gary Lucy and reveals adorable name
HARRY'S TRIBUTE
Queen is looking down on us, Harry says & reveals Meg 'upset' not to be UK
Because of this, the rental company handling the tenancy advised her to continue paying rent to the old owner.
Now, the landlord is trying to charge her backdated rent amounting to almost £26,000.
Kate added: "How can it be fair that I'm being kicked out? It's madness.
"I hear stories that it can take three years to evict an actual squatter, and yet I am being asked to leave as a single mother paying rent."
The landlord is taking Kate took her to court, claiming she was a 'squatter' because she had no contract with him – despite evidence of rent payments going back to 2017.
He claimed he had the right to any earnings on the property -including rent.
The single mum has been receiving help from social services, the Citizens Advice bureau and a local charity called Guardian Angels.
"They are all shocked by the decision and can't understand how it happened," she said.
Myra Azzopardi, senior adviser at Citizens Advice in Spain, told the Olive Press: "This case is shocking. First of all, the fact the appeal was won so quickly is very surprising, any other person in Spain would be thrilled to get a case through a court in three months.
"But Kate is the victim here, she was paying the rent and the mother should have known exactly what was happening with her property.
"If that mother didn't know what was going on I'd eat my hat. She has acted unjust and fraudulently and Kate should be taking her to court.
Read More on The Sun
My daughter was put in detention on day one of school over the HEEL of her shoes
We got sick of drivers parking outside so we took the matter into our own hands
"The fact that the son wants to sue Kate for the huge rent allegedly owed is ridiculous. He should be suing his mother, as she was collecting the rent that the courts have now ruled she had no right to."
The local expat community has set up a GoFundMe page to help Kate with legal bills and potentially moving costs as well.

Source: Read Full Article